I found this amazing juice bar/cafe  in London, called Joe & The Juice.
They offer amazing juices, freshly made in front of you 🙂 What a dream… I missed it so much!!! (We do not have a juice press here in England). So I had a small cup (which is quite big actually 🙂 of "Joe's sweet kiss" with apple, rasberries and ginger. And it was heavenly!!! Can't wait to go back and try all the other stuff they have.
They also offer coffee of different kinds, I also had a latte, which was very decent (and had the sweetest heart in the middle) plus sandwiches that look irresistible. Well this time I did resist, but assessing from the looks, a sandwich can not get  any better 😉
Not the best photo (sorry about that), but you can get the idea of what they offer.
In addition to all of that they had super nice and friendly staff, one of whom was eagerly ready to pose for a photo!
The ambience was very cosy and nice. They have free wifi, so it is a great place to work as well. In Dean street there is extra seating downstairs, where it a bit quieter and very comfy.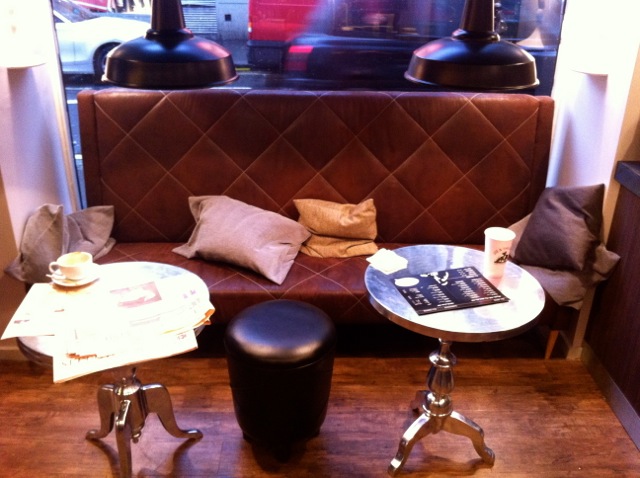 It comes out that the company is actually Danish and they are operating in Denmark, Germany – Hamburg and UK – London. In London they have shops in 46 Dean street, 65 Kings Road, 281 Regent street and 65-67 Broadwick street.
Go and try out yourself and let me know how you liked it!