Before coming to London I was not a big fan of brunch. I rarely ate breakfast and the whole egg and bacon and beans thing seemed pretty disgusting if anything. I could not have been more wrong!!! (To my defence I do not think I had had good 'egg and bacon and beans' before).
Moving on about 5 years I could not be a bigger fan. I love everything that has to do with brunch! A lazy weekend morning, the smell of coffee and bacon (weird combination, I know, but it works. For me at least), a gorgeous flat white, some hearty good food that will keep you full for the rest of the day in a cozy friendly busy atmosphere.
I will save you from the pain of going to the bad places and not having the perfect experience by telling you where to go right away. So here is my list of the best brunch places in London:
1. Ozone Coffee Roasters UK (Old street)
My definite number 1. You are always greeted with a very warm welcome by friendly and attentive staff. The atmosphere is very relaxed and calm. While it gets quite busy over the weekend it is never noisy and I have never felt bothered about the crowd (that can sometimes happen in other places). The coffee as you can imagine is top notch and food obviously amazing. Our favourites are Ozone Baked Beans & cheese or Braised mince and cheese (£8.9) and Hand cut chips w aioli (£4). But I must say I have never been disappointed with anything I have ordered in Ozone. So give it a try, I am sure you will not be disappointed.
2. The Modern Pantry (Farrington)
Somewhere sharing the second and forth place is Modern Pantry. It is casual, yet a chic place for brunch. There is nothing better than spending a sunny / warm weekend morning/ afternoon lazing at their outside seating area and enjoying the sun (and good food and drinks) for hours in end. The menu has English classics as well as some quirkier choices for the adventurous. The service is also nice (but not as nice as in Ozone).
3. Workshop (Farrington)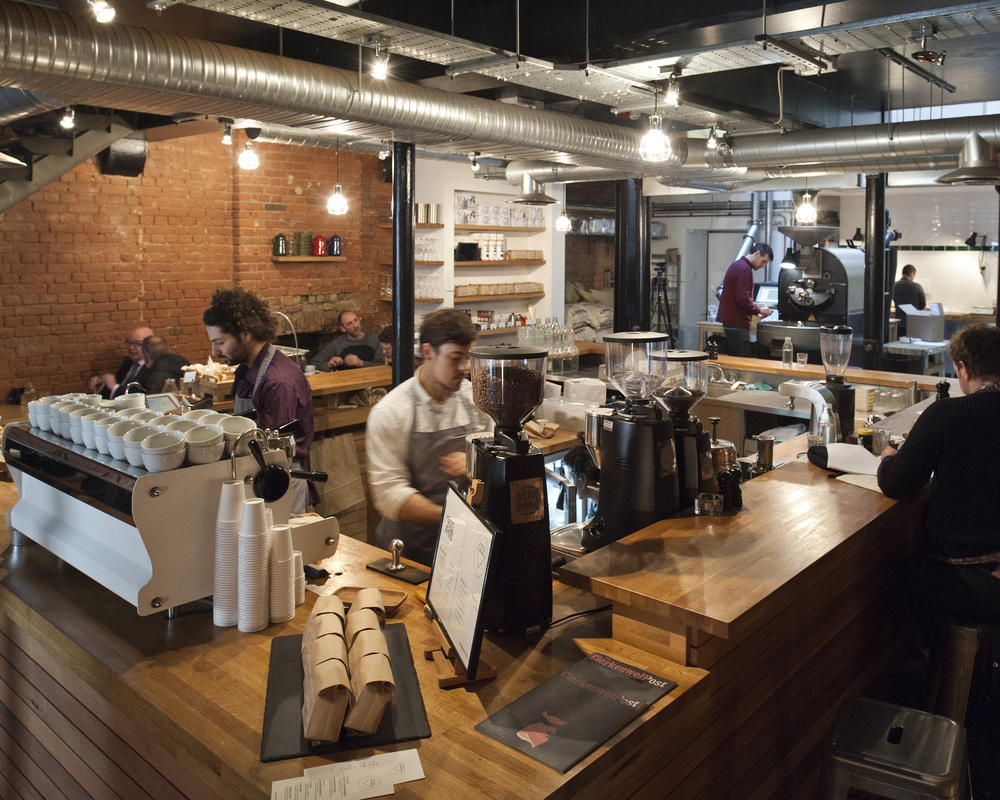 Pretty much across the road from Modern Pantry is another very nice and relaxed Aussie restaurant serving excellent brunch. I love sitting on the ground floor at the bar or at the communal table and watching everyone 'do their thing'. Food is great and atmosphere reminds a bit of Ozone (which is a very good sign). I have had GRILLED ASPARAGUS SMOKED SALMON, POACHED EGG, TRUFFLED MASCARPONE, CORN BREAD (£10.5) and this is one of my all time favourites.
4. Caravan (Exmouth Market)
Supposedly the best brunch in London (according to many others). I like the food and will be going back there times again probably, but I do not enjoy the atmosphere in Caravan as much as I do in the before mentioned places. The service is always a bit hurried (but nice) and the place is just very noisy… They also have an outside seating area, that is probably a bit quieter. I have tried CORNBREAD FRENCH TOAST, BACON, ROCKET AND AVOCADO (£9.00) which was delicious. They also roast their own coffee beans, so definitely try it.
5. Kopapa (Covent Garden)
I am adding this as otherwise the list is very East London focused. This Covent Garden located restaurant get very busy during lunch time as well as during weekend brunch so make sure you book in advance. Its gets quite noisy and busy, but food is excellent! The most popular dish in the menu is Turkish eggs (poached eggs with yoghurt, hot chilli butter and flatbread) which truly is a must try. They have some other quirky dishes like this, so one thing is for sure – it will not be a traditional boring breakfast 🙂
6. The Riding House Cafe (Oxford street)
I have only visited the place one, but thought I would still put it onto the list as it might be more conveniently located for most of the people visiting London. Do book a table in advance to get a good seat. We did not book and ended up sitting in the big communal dining table, where it was so noisy that we barely heard each other. Seats by the bar and at the back in the smaller tables seemed nice though and the food was nice as well. I was very happy with my Chorizo Hash Brown (£9.50), but my boy thought the Full&Proper Breakfast (£10.50) was merely average. Ohh well, you can decide for yourself.
I hope this is enough choice for your next weekend brunch out. Let me know if you think I missed anything 😉