We have this tradition with my mom, that we go to a daughter-and-mom trip every year in the spring time. Just a short city-break for 3-4 days to relax, see a new and interesting place, go shopping, enjoy some museums, good food, music and wine and catch up with each other's lives 🙂 We have been to Paris and Barcelona in last years. This year in June we headed to Lisbon.
Lisbon is a charming city, though in Europe it often seemed we were miles away in a very distant and long forgotten place. It definitely was not as I expected – just like another Spanish kind of touristy spot. It was much more ethnic and unique than I ever could have imagined.
Spread across steep hillsides the city is situated in the delta of river Tagus. You can get magnificent views from the several hilltops and viewing platforms of the never-seeming-to-end red rooftops and the river.
On the first day we arrived by the midday, unpacked, took a little look around the hotel and headed to town.
I can thoroughly recommend the Tivoli Jardim hotel, which is a 4* hotel itself, with good deal prices on occasions. It is situated just next to another Tivoli 5* hotel, so we were welcome to use all the amenities of the sister hotel, including the pool. It was the perfect place to spend a lazy afternoon, sunbathing and reading, after a tiring day hiking up and down the  hills of Lisbon. (It was also a perfect place to wake ourselves up in the morning with a refreshening tip in the pool before heading for morning coffee and breakfast). There were Nespresso coffee machines in every room so we did not have to look far for a good coffee in the morning.
We walked down the Av. Liberdade to Figueira Square and then to Praca do Comercio. For the main avenue of he city, that is compared to the Champs-Elysees in Paris it is rather modest 🙂 But nice nonetheless…
Praca do Comercio is a huge empty square just by the river, surrounded by nice (in Lisbon's sense rather fancy) cafes and restaurants. It is also a big transport hub, where you can hop on the famous tram no 28 or a tourist tour tram. We picked the latter one and took a ride up the hill to the historic Alfama.
Alfama is a good place to start out from, you can get beautiful views of the city from top of the hill. I recommend visiting the castle, though ticketed it is very atmospheric and the views are probably the best you could get.
We wondered on the narrow backstreets of Alfama and had a nice little lunch break in one of the little restaurants. (basically around every corner and at the end of every street you think will not take you anywhere is hidden a cute little restaurant).
We spent the late afternoon relaxing by the pool and then headed back to Alfama for the dinner and fado (a very typical Lisbon music genre, whose birthplace is Alfama). We quite quickly gave up on fado, after many hearing it in many places when walking on the street, but I definitely recommend to give it a try, as it is as traditional as it could get.
Most of the time we spent just wondering around the city, trying to find our way in the narrow streets between the many hills and gladly getting lost once in a while to discover something off the tourist track. Alfama was probably our favorite part of the city as it was so authentic with the laundry hanging down the windows on the streets and locals chatting loudly… Bairro Alto was also very nice, we had a fantastic dinner there. It is much more lively as well as touristy I would say.
We also took a day trip to Cascais, which used to be a little fishing village near Lisbon, no it is rather a resort city with couple of nice little beach stripes and a marina. A lovely little town – perfect for a quiet day on the beach. There is also a nice park and a museum of Castro Guimaraes Count that we briefly visited. The museum was a good example of Portuguese style, as it is a villa that used to belong to a local aristocrat, left pretty much as it was after his death.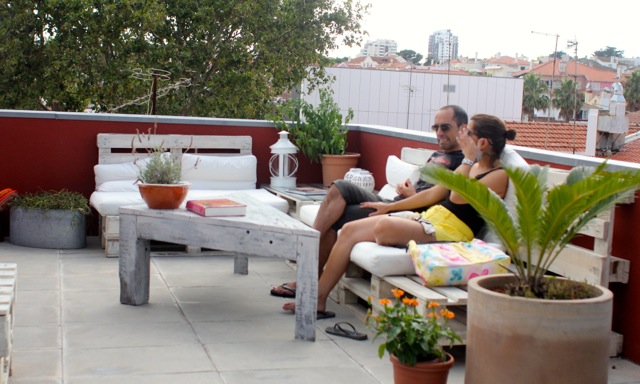 The last day before leaving in the evening we visited the Freeport shopping centre across the river. It is outside Lisbon, a new and rather fancy shopping centre with 100s of well-known brands presented. It is said to be the Europe's largest shopping mall. Overall it was nice, there were rather few people to my surprise, but it was nothing very special in the end.