Every year sometime in late January – mid February you can witness the largest Chinese New Year celebration outside Asia here in London. This year the magical date was 10th February, when the Year of Snake began. (Each year in the Chinese calendar is represented by one of the 12 animals of the Chinese zodiac).
Also knows as Spring Festival, this is the most important celebration for Chinese. It is traditionally a family reunion with lots of food and decorations.
As it was our first time in London during these celebrations we decided to check it out ourselves. We decided to go for a New Year dinner in Chinatown on Saturday evening. The Chinatown was nicely decorated with red lanterns and seemed as busy as ever. Having not booked a place the situation looked pretty hopeless already at 6pm. You could see queues of people waiting to get into tiny Chinese restaurants packed with locals and tourists alike.
This was our first ever dinner in Chinatown, so we wanted to make sure we will go to a place that is well recommended. This is what I found: Beijing Dumpling on Lisle St in Chinatown (they serve up the best honey garlic ribs in London, hands down); Four Seasons on Gerard St & Wardour St (the best roast duck in Chinatown), best dim sum would be Joy King Lau. We tried almost all of them and couple of more that were recommended in Yelp!  and ended up going to Joy King Lau, just because the que seemed the shortest. Though probably one of the best places in London for Dim Sum we could not order it, as it is more of a daytime food. Instead we went for a quite traditional 3-course set menu and waited with excitement for what we would get.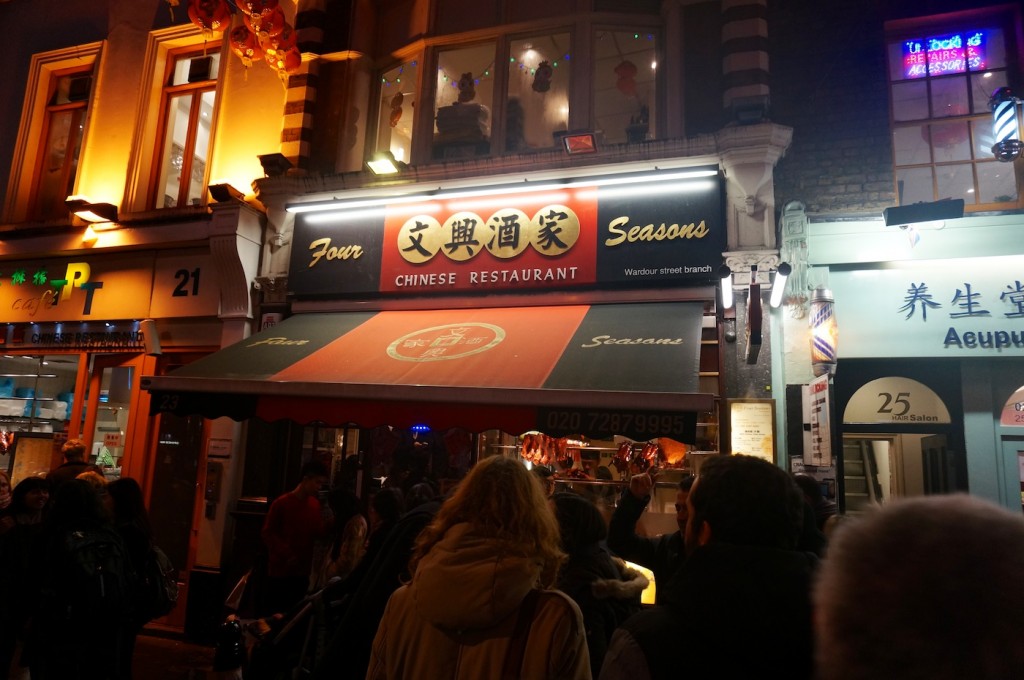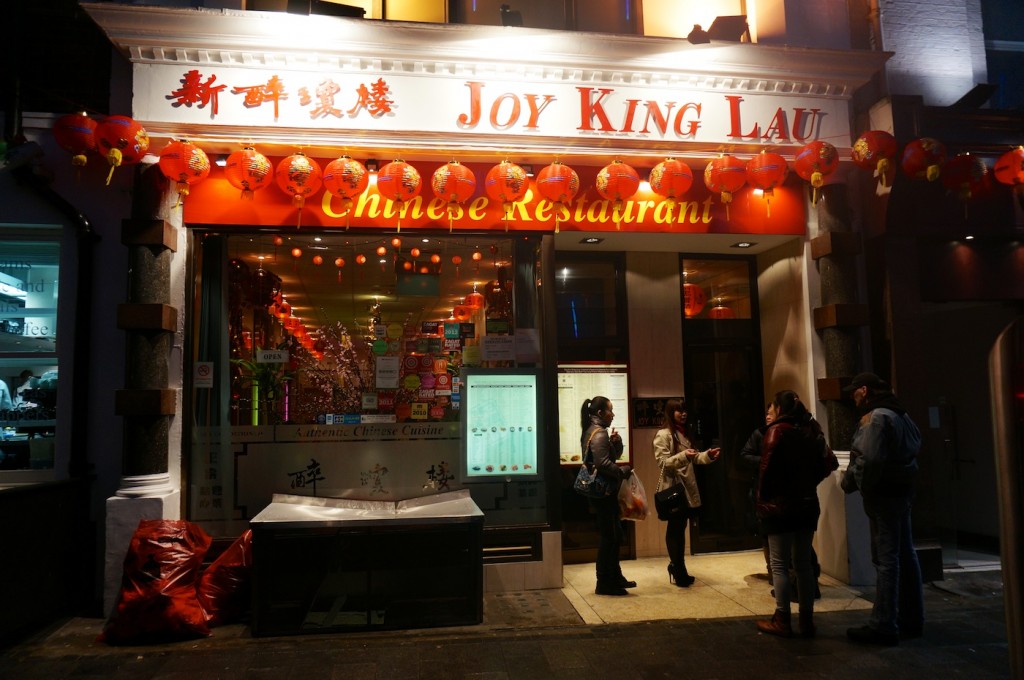 The place was rather funny – 4 floors (if not more) full of  a very varied crowd of people (everyone from Chinese children groups and families to tourists to Londoners) sitting quite tightly together behind tables with white tablecloths and managed in a very efficient manner by friendly Chinese waitresses (they even used walkie talkies to communicate between themselves).The place looked a bit old and rusty, as many places in Central London with some mice running around, but it seemed to be offering decent Chinese food as there were many locals dining (I always take it as a good sign).
Very traditionally we drank green tea, partly because it was really cold and partly because it seemed like a right thing to do (you get free refill during the course of the whole night). So because we are no experts on Chinese food and were not sure what to order from the "much-more-than-extensive" menu we went for a 3-course set menu.
The starters were great – crispy seaweed, spring rolls, sesame prawn on toast and bbq pork ribs. We were more than happy with that… What followed was probably the best part of the meal – Crispy Aromatic Duck, served with pancakes, spring onions, cucumber and plum sauce. Could not recommend it more highly. The main course however was quite average – probably par of the reason was also that we were already quite full of the starters. They also offered us complimentary dessert – oranges 🙂 But I was bad enough of a blogger to forget to make a photo of it before we ate all of it. The bill was bought to us without asking and before we noticed we were out of the restaurant again. The que was as long as it was before we got in – so I assume they had a very busy night.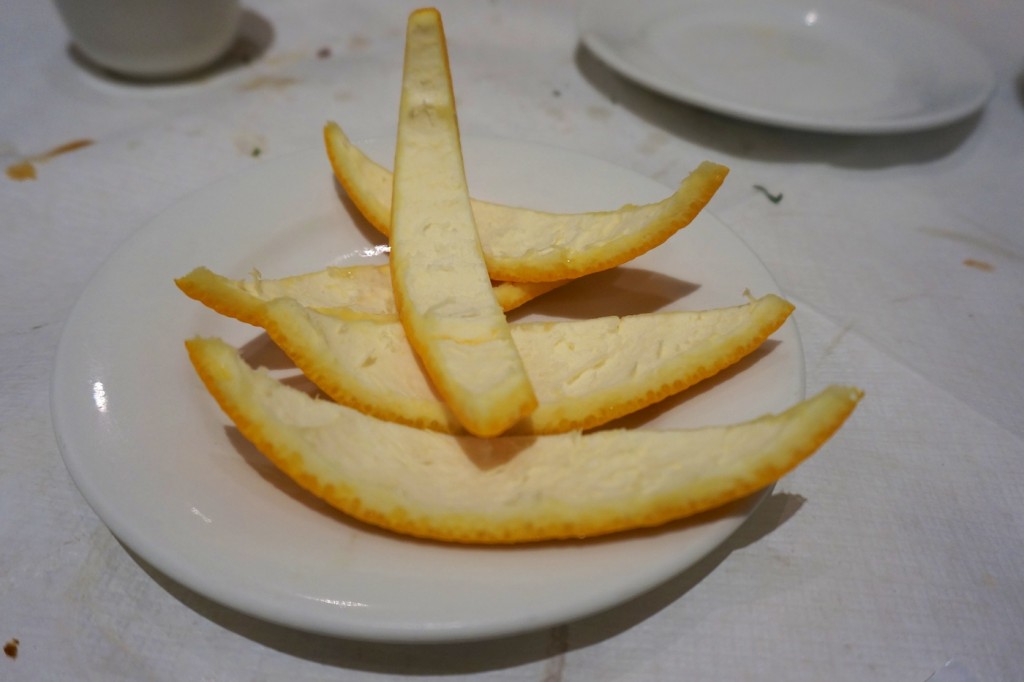 The next day everybody gathered to the London West End to enjoy a parade through the Chinatown, a lion dance, food and craft stalls, live performances and a fireworks display as well as a parade. By everybody I mean EVERYBODY, which made the streets between Leicester Square and Shaftsbuty Avenue as crowded as ever (despite the most awful weather you can imagine). There were market stalls all the way from Trafalgar square to the Shaftsbury Avenue with couple of stages with different performances in between. We only walked through the area quite briefly – but it was enough to get a nice feeling of little New Year buzz in this rainy day.
"Kung Hei Fat Choi" (or Happy New Year)